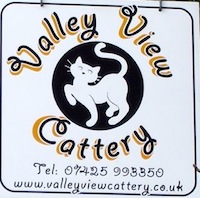 How to book with us

We charge by the day, including arrival and departure days, with a three day minimum. The basic charge for each of our guests is
£10.00
per day, however if more than one of your cats are staying with us and living together while in our care, we automatically apply a discount. See our
Rates
page for more examples.

Our service is inclusive of your pet's usual diet, heating, grooming and of course lots and lots of cuddles.

Please pay us when you collect your pet. Payment can be made by card, BACS, cash and cheques.


Other things you need to know about our service

Your cat will be looked after in his or her own accommodation and will only share with cats from your family.

It is essential that your cat has a current vaccination certificate covering 'flu and enteritis which we will need to see on arrival. It is equally important that they are up-to-date with their flea & worm treatment and that male cats are neutered. Speaking of when you arrive, to help us look after your pet right from the start, please bring them in a secure carrier. Feel free to bring your cat's favourite toys and we will look after them as well, but please understand we can accept no formal responsibility for items left with us.

If your cat has any pre-existing illness you must let us know and if the condition is stable and manageable, we will administer any medication you provide. However, we have to reserve the right to refuse to accept your pet. Should anything unforeseen crop-up during their stay, our veterinary insurance will cover treatment by the carefully chosen vets we use. You must also tell us in advance if your cat has any unusual character traits or is known to be aggressive to strangers. As we are sure you will understand, we all have a responsibility not expose our family to possible injury.

Whilst we promise you that everyone involved with Valley View Cattery will do their absolute best to care for your cat during their time with us, ultimately we cannot and do not accept any liability for illness or accident which leads to any injury to them.